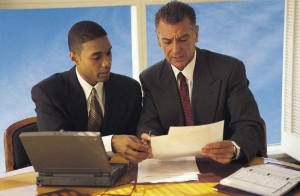 Few people have the luxury of working simply because they want to do so. Most people work to support themselves and/or their family.
If you are one of these people, your job is important to you and your family's financial stability.
Family emergencies or family related health issues do come up, however, from time to time, potentially causing a family-work conflict. Fortunately, the Family Medical Leave Act, or FMLA, may provide the solution.
The FMLA was passed in 1993 and requires employers to provide a covered employee with unpaid but protected leave time for a covered reason.
In other words, if you qualify to take FMLA leave from your job your employer cannot terminate you or take any other adverse action against you during your absence.
FMLA applies to all public agencies, all public and private elementary and secondary schools, and companies with 50 or more employees.
Assuming that your employer is covered under the FMLA, you must also have worked for the employer for 12 months to qualify for FMLA leave. The 12 months does not need to have been consecutive; however, you must have accumulated 12 months of employment with the employer to qualify for leave.
A break in employment of longer than seven years may disqualify you if you are counting employment prior to the break when calculating your 12 months of employment.  
Furthermore, you must have worked for the employer for at least 1250 hours in the 12 months before you take leave. Finally, you must work at a location where your employer has at least 50 employees.
In other words, your employer might employee thousands of people at a location in another city or state; however, if the location where you actually work only employees a handful of people (less than 50) you are not eligible for FMLA leave.
In addition, you must have a covered reason for taking FMLA leave. Covered reasons include:
The birth and care of the newborn child of an employee;
Placement with the employee of a child for adoption or foster care;
To care for an immediate family member (spouse, child, or parent) with a serious health condition; or
To take medical leave when the employee is unable to work because of a serious health condition.
If you have questions regarding your eligibility for FMLA leave, consult with our Florida FMLA attorneys to ensure that your rights are protected.