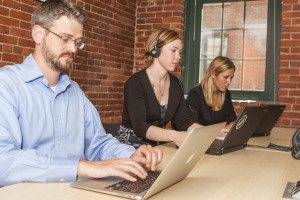 As an employee, you undoubtedly operate under the assumption that your employer runs and honest, law-abiding, business.
While most employers do indeed run an honest enterprise, there are always exceptions to the rule. As an employee, discovering that your employer is violating the law, perpetrating fraud, or cheating the government can put you in a very precarious position.
Burying your head in the sand and pretending you are unaware of your employer's deceit or illegal activities could make you appear complicit should your employer's activities ever be uncovered by the authorities.
On the other hand, reporting your employer will undoubtedly lead to an uncomfortable workplace, if not lead directly to your termination.
Knowing the dilemma an employer faces in this situation the federal government has enacted several "whistleblower" laws that protect employees from retaliation should the employee decide to come forward and report the employer. You may also be wondering, however, if there is a Florida law protecting whistleblowers.
There is indeed a Florida whistleblower law, located in the Florida Statutes, Sections 112.3187-112.31895, and known as the "Florida Whistleblowers Act." Within the Florida Whistleblowers Act are found many provisions and protections that mirror those found in federal whistleblower laws.
The purpose of any whistleblower law is to protect an employer who decides to report fraudulent or illegal activity on the part of an employer. Without a whistleblower law, most employees would remain silent instead of risking the wrath of an employer who may now be facing criminal charges as a result of the employee's actions. The Florida Whistleblower Act prohibits an employer from retaliating against an employee. Specifically, the Act prohibits:
An agency or independent contractor shall not dismiss, discipline, or take any other adverse personnel action against an employee for disclosing information pursuant to the provisions of this section.
An agency or independent contractor shall not take any adverse action that affects the rights or interests of a person in retaliation for the person's disclosure of information under this section.
It is entirely possible that one of the many federal whistleblower laws will also apply if you are working in Florida and decide to "blow the whistle." The complexity of whistleblower cases, and the complicated jurisdictional issues that may arise, are just two of the many reasons why you should always consult with an experienced Florida employment law attorney before taking any action if you suspect illegal or fraudulent activity on the part of your employer.
If you have additional questions or concerns about the Florida Whistleblower Act or you wish to discuss how best to protect yourself using the Act, contact the experienced Florida employment law attorneys at Celler Legal, P.A. by calling 954-716-8601 to schedule your appointment.