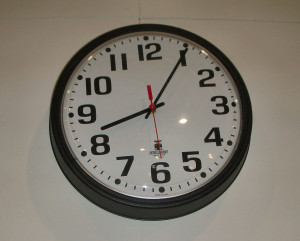 Unlike workers in many other parts of the world, employees in the United States are protected, to a great extent, by various state and federal laws. These laws attempt to ensure that employees are treated fairly in the workplace and that discrimination does not occur in employment. One primary focus of the various employment related laws in the U.S. is to make sure that workers are actually paid for all the time they spend working. What about time you spend working off the clock though? Are you entitled to be paid for time spent working off the clock?
Unfortunately, this is a common question from workers because it is a common practice of employers. Whether you physically "clock in" and "clock out" or not, you undoubtedly keep track of the time you work each day. This official record is what is used to determine you pay each pay period. Employers, however, frequently ask and/or expect employees to continue to perform work related tasks after they have officially "clocked out" for the day or even before they have officially "clocked in" for the day. Just a few typical examples include:
Your employer asks you to drop something off on your way home from work.

Your employer requires you to pick up other employees or pick up office supplies on your way in to work.

Your employer frequently calls you when you are at home, or otherwise not on the clock, to discuss work related matters.

Your employer orders you to clock out at a specific tie each day but then tells you to finish whatever you are working on at the time.

Your employer calls you back early from your lunch break but tells you to wait the full 30 or 60 minutes before you officially clock back in from the break.
If any of these scenarios sound familiar to you there is a good chance your employer is breaking the law. Unless you are exempt from the minimum wage provisions of the Fair Labor Standards Act, or FLSA, your employer is legally required to pay you minimum wage for all the time you spend working. Though the federal minimum wage is currently set at $7.25 per hour, the State of Florida's minimum wage is actually higher at $8.05 per hour. If your employer has not been paying for the time you spend working off the clock you may have the basis for a claim against the employer. If successful, you could be entitled to all the back pay owed to you as well as liquidated damages equal to that back pay, or essential double the wages owed to you.
If you have additional questions or concerns about federal or state minimum wage laws or employment law in general, contact the experienced Florida employment law attorneys at Celler Legal, P.A. by calling 954-716-8601 to schedule your appointment.